You know him as the "guy in the green shirt" and the "driving force" behind Your Local Studio.
But who is Alex Ferguson?
What made him what he is?
And yes, why is a green shirt literally his trademark?
I had a chance to sit down with Alex for a Q&A meeting over morning coffee and got the inside scoop on what drives him; what motivates him; and what is making him one of the fastest up-and-comers in the video production field.
---
With so much competition, when you first started the business as EpicRealm Productions, were you ever concerned that the business would fail and fold?
No. I was confident that we had a specific targeted niche and I had no doubt that if we concentrated our efforts on that niche that we would be successful. Mind you, we never thought that just concentrating on that one thing (

specific targeted niche)

could be so difficult.
(the video below is from Alex's EpicReam Production days – February 2010)
Was it difficult to get clients in the beginning? Is it still difficult or a bit easier now that you've been around for a few years?
It was difficult. Networking, in the beginning, was the biggest thing. It took 6-8 months for some results to be seen. It took an additional 2 years after that to have a solid base to work on without having to network all the time.
Why is green your trademark color?
Green was my favorite color from early on. I had a VERY strong green shirt which I wore to events that helped me stand out. At my second event, someone came up to me and said, "Hey! You're that video guy I met last time with the green shirt!!" The rest as they say "is history."
What motivated your decision to rename the business to Your Local Studio?
It really fits with our vision of where we are going which is to be the "trusted local resource for anything video related."
What avenues do you use to grow your business?
We now utilize different techniques, mainly online to showcase our products and use humor in our YouTube videos to get us in a client's mind. Our video updates (or what we call our "v-Letter") have made the most consistent impact on our marketing efforts.
In the beginning, you worked some crazy hours to get the business off and running; how did the birth of your son, and becoming a dad change your schedule and outlook on the business?
I love being a dad and have found that the one great thing about having your own business is flexibility. I work hard during the day, and actually, find that a great time to work is from 9:00 PM to midnight…when my son is asleep!
It's obvious that with the recent addition of more staff, and two locations, and a second studio in your Cary office that business is definitely picking up. How do you feel seeing all this happen in contrast to the days when you were just a "one-man show"?
It's mind-boggling to see how far we've come. I will say that I feel incredibly blessed to be seeing this happen. It makes me very satisfied when a client tells us that we provided them with a delightful experience.
How do you feel about the future of Your Local Studio and its prospects? Where do you see the company going in the next five to ten years?
I am so excited about the future and the incredible potential that lies ahead of us. Over the next five years, we would like to have more studios and be on the cutting edge of video technology so that we will be able to help our clients achieve their goals. And yes, our goal is that we would love to have a studio in every major North American city!
---
Your Local Studio in every major North American city!
Now, that's a great goal, "Mr. Green Shirt Guy"!
Which city comes next?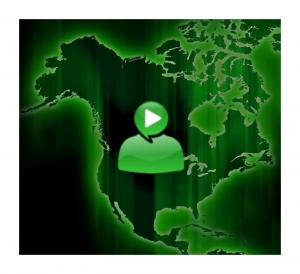 Corporate and Creative Writing with a dash of humor. Coffee always appreciated.

Latest posts by Mike Rumble (see all)