World traveling, a new website and homepage video, a webinar series into a video course… these are just a few things your team at the studio have been up to over the past couple of months. Watch the video below to see yourself!
Website redesign
As you may have noticed, we've recently given our website a face-lift. Feel free to explore and see some of the new changes! We also had fun creating the promo video for our new book the Marketer's Guide to Video, which is featured on the home page. If you haven't seen it yet, watch it below!
Free Course: Better Training Videos
Over the summer, we hosted a 5-part live webinar on creating better training videos, joined by multiple experts who shared their thoughts with us. We then took the whole series (over 5 hours of content) and broke it down into smaller chunks and created a new video course. It's totally free, and it's a great resource for anyone looking to create a more engaging training or educational video series. Check it out here: https://videoresourcecenter.thinkific.com/courses/better-training-videos-the-experts-exclusive-tips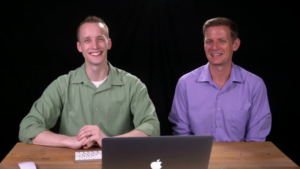 World travelling!
In July, Evan traveled back to Colombia, South America with a group from his church, where they visited a few churches and conducted some leadership development classes for the leaders. He'll tell you though that he really misses the coffee…
Alex and Alisane also did some traveling of their own–in southern Germany and Austria. They were able to reconnect with lots of family over there (that's right, they've got some German heritage!) while also recording a bunch of new travel footage for the studio's growing stock footage library, including the good 'ol touristy things, a few time lapses, and some beautiful drone shots.
Alex and Alisane are also trying their hand at vLogging a little, so if you'd like to see more, head over to Alex's personal YouTube page (video will be online soon!).
That's an overview of what your friends at the studio have been up to. Be sure to check out our new video course on creating better training videos! And as always, if you need any video help, just give your team a shout at Your Local Studio.